hollandsnieuwe 4G
Hollandsnieuwe biedt nu ook 4G internet aan!
Als een van de laatste providers biedt nu ook hollandsnieuwe 4G internet aan. Waar bij 3G de maximale snelheid op 25 Mbit/s ligt brengt 4G snelheden tot 150 Mbit/s. Handig voor als je extra snel wil internetten, graag video's kijkt en muziek luistert.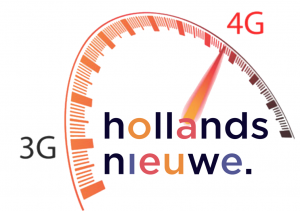 Het hollandsnieuwe (4G) Sim Only aanbod: hollandsnieuwe Sim Only aanbiedingen.
Het hollandsnieuwe (4G) abonnement inclusief telefoon aanbod: hollandsnieuwe met toestel.


hollandsnieuwe 4G, alles uit één bundel
De meeste providers hanteren 2 of 3 losse bundels in een abonnement, dus bellen – internet – sms. Dat is bij hollandsnieuwe een stuk overzichtelijker en verandert niet. Alles gaat er uit één bundel, bel je 1 minuut uit een 500 bundel dan blijft er 499 over, dat geldt ook bij 1 Mb internet verbruik of 1 sms versturen. Zo kun je bijvoorbeeld met de populaire 1500 min/sms/mb bundel voor slechts €11,- (tijdelijke actie!) gerust een maand niet bellen maar wél 1500 MB aan internet gebruiken. Ideaal voor als je enkele maand alle vrijheid wil en je het lastig vind om je maandelijkse verbruik in te schatten.
Bestel je voor 27 februari dan blijft het actie tarief tot eind looptijd geldig. Na die datum zullen de 4G bundels zo'n €5,- per maand extra gaan kosten.
Wees er dus snel bij en neem nu die hollandsnieuwe actie bundel!
Verlengen, nieuw en overstappen is zo geregeld! Daarbij is verlengen altijd geheel gratis, en krijg je bij een nieuw abonnement of overstappen slechts te maken met aansluitkosten (€15,-).


hollandsnieuwe (4G) weetjes, wist jij dat?
hollandsnieuwe onderdeel is van Vodafone en gebruikt dus ook het Vodafone netwerk.
Bij hollandsnieuwe kun je niet over je bundel heen, tenzij je zelf opwaardeert.
In het buitenland ook je bundel kunt gebruiken.
Alles uit één bundel, dus je bellen, sms en internet.
hollandsnieuwe 4G betekend super snel internet.